Precision Casting Capabilities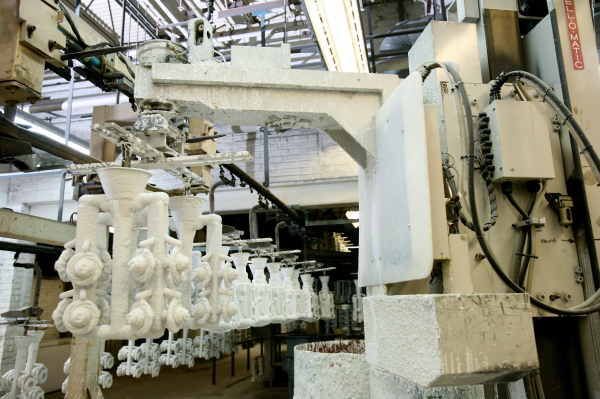 EPCO is a full-service investment casting company that provides a full suite of secondary services required to complete your investment casting project, including heat treating, finishing, non-destructive testing, and rapid prototype casting. Whether your investment casting design is simple or complex, our experts are equipped to help you select the best material and processes for your project and assist with design troubleshooting when required.
Contact us to learn more about our investment casting capabilities or to request a quote for your i 
Investment Casting of Precision Parts
Engineered Precision Casting Company has over 70 years of experience in investment casting of complex parts, and has cast over 9,000 different product configurations. Our services are performed in-house to save you time and money, and we can accommodate production runs ranging from as few as 10 cast components to 1,000 or more. We offer over 75 casting materials including ferrous and non-ferrous air-melt alloys and provide various grades of metal that meet MIL, AMS, ASTM and other specifications.
Size & Dimensional Tolerances for Investment Casting 
Investment casting can hold tight tolerances allowing for production to net shape and is an effective solution for parts with thin walls or complex designs. Our foundry offers investment casting services for parts up to 16" x 16" and with weights up to 150 lbs. Tolerances vary depending on the size and shape of your part but can range from +/- .01" for the first two inches and +/- .005" for each additional inch. Consult our size and dimensional tolerance considerations for more information regarding your investment casting project.
Rapid Prototype Castings
Rapid prototype casting can be a lower cost, low lead time option for projects requiring a prototype or small size production runs for testing. Engineered Precision Casting Company has produced hundreds of rapid prototype castings and has the expertise to handle designs of various sizes and complexities. 
Investment Casting Injection Tooling & Fixture Fabrication
Investment casting services from Engineered Precision Casting Company include injection tooling and fixture fabrication to ensure your investment cast parts meet your exact design specifications. We offer in-house tooling services and can accommodate most transfer tooling depending on your part's size and design.
Investment Casting Materials
 The investment casting method can produce parts to tight specifications using a wide range of ferrous and non-ferrous alloys that are melted and poured into a ceramic mold. EPCO utilizes over 75 different types of ferrous and non-ferrous investment casting materials for your project needs. We pour nearly all air melt alloys, and our master heat system is strictly controlled to deliver consistent quality and high performance. The metal and alloy materials that we can utilize within your project include:
Applications for Investment Casting Precision Parts
 With a resume that includes over 9,000 precision cast parts since inception, Engineered Precision Casting Co. has the experience and capability to handle the most complex and challenging investment casting projects. EPCO provides investment casting services for a range of industries including:
Contact EPCO to Learn More About Our Investment Casting Capabilities
 Contact us to discuss your investment casting requirements or request a quote for further pricing details. EPCO is your premier resource for specialty investment castings.