Investment Casting Secondary & Support Services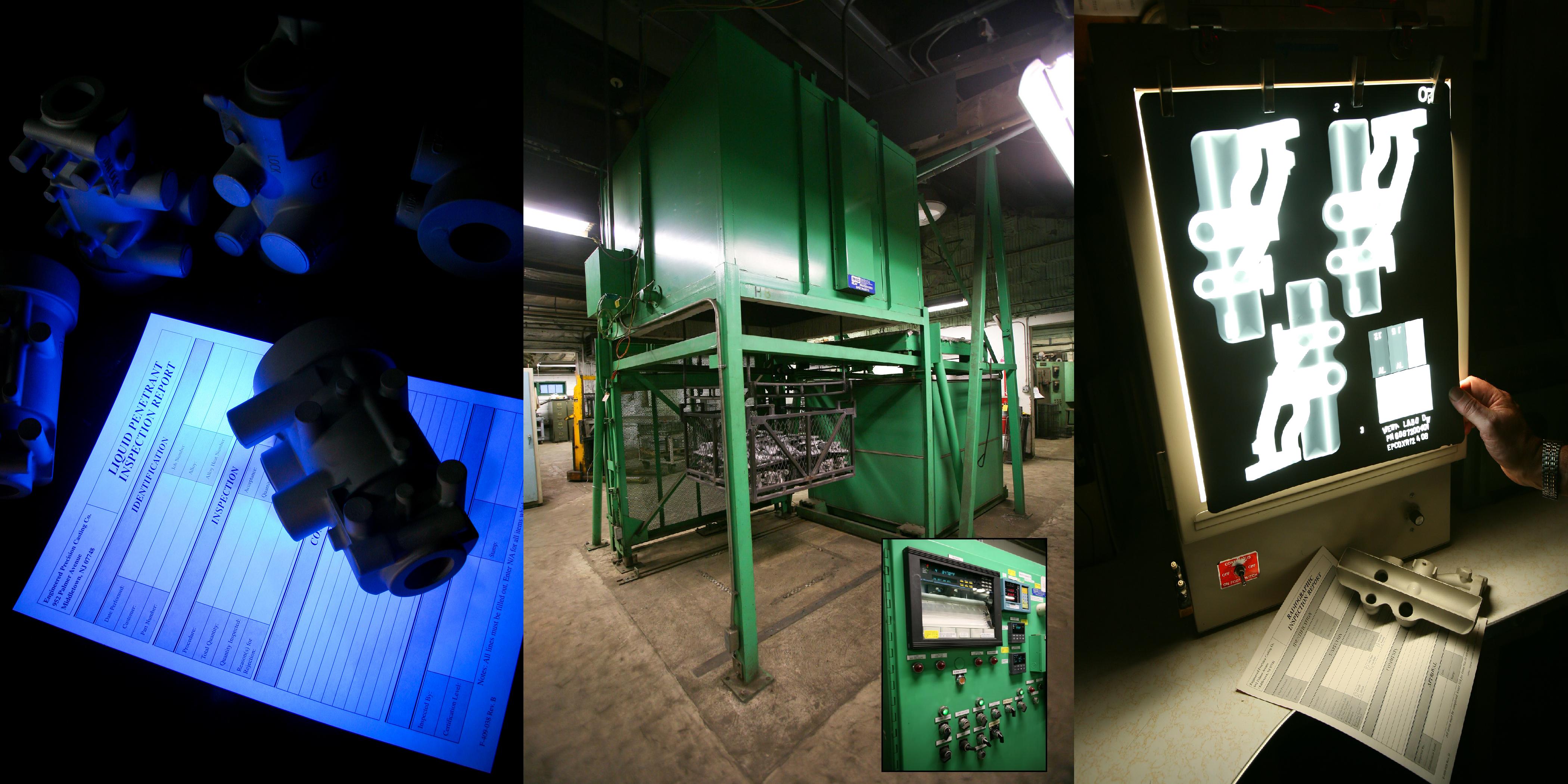 Investment casting produces complex parts with close tolerances and excellent repeatability, but there are instances where additional services are required for industry compliance and to prepare castings for use in aerospace, military and other critical applications.
Our investment casting foundry provides a variety of secondary services for investment casting including repair welding, heat treatment and hardness testing, non-destructive testing, and more. We are AS9100 certified and several of our processes are NADCAP accredited for aerospace and other applications.
Whether the service is performed in-house or by someone in our network of trusted experts, we take every measure to provide high quality investment castings. Each process is managed using our AS9100 certified quality management system for consistency and quality, and we work with you each step of the way to ensure your requirements and expectations are met.
Learn more about our services below or contact us to discuss any special processes you require for your investment casting project.
Heat Treating & Hardness Testing
Heat treating and hardness testing are used to improve the strength and wear resistance of aluminum and stainless steel investment castings. Our NADCAP accredited heat treating and hardness testing is performed in-house and in accordance with AMS-2771, AMS-2750 and other aerospace specifications.
Options for heat treating and hardness testing include: homogenize & solution, precipitation hardening, harden & temper, Rockwell hardness testing, T4, T430, T6 and T61. Other supporting operations may be available upon request.
HIPping (Hot Isostatic Pressing)
Hot Isostatic Pressing (HIPping) is used to improve the mechanical properties and internal soundness of metal castings. The HIPping process is performed by industry leaders and managed by our casting foundry to ensure quality results and timely delivery. 
Machining and Finishing
For investment cast parts that require additional machining, we offer complete to print finishing solutions performed in-house and in collaboration with our network of pre-screened, qualified subcontractors.
Welding
Our welding services include Gas Tungsten Arc Welding (GTAW) in accordance with AMS-2694. We are also NADCAP accredited for welding and perform all services in-house for quality control.
Non-Destructive Testing 
Non-destructive testing is widely used by the aerospace and military and defense industries to verify the structural soundness of investment castings and identify small surface and sub-surface defects.
We offer NADCAP accredited non-destructive testing including liquid penetrant inspection, magnetic particle inspection and radiographic inspection to meet all your testing needs.
CAD Modeling
Our CAD modeling services are used for rapid prototype castings and full-size production runs. We utilize various types of 3D software and are always working to expand our software capabilities. Our engineers can also assist with troubleshooting design challenges and can model some parts in-house.
Contact Us to Discuss Secondary Service Options for your Investment Castings
Our full-service investment casting solutions save you time and money by providing a streamlined process from start to finish. Contact us today to discuss your specific investment casting requirements.