Investment Casting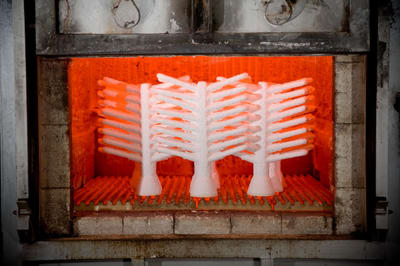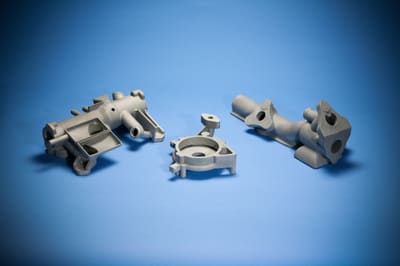 Investment casting (or "lost wax casting") is a technique where wax patterns are coated in ceramic to create molds for pouring high-performance alloys. The investment casting process has been used for thousands of years and is highly effective at producing a wide range of parts with high accuracy and repeatability. Further, the process creates parts with a smooth finish to near net shape, reducing or eliminating weldments and machining operations.
Benefits of investment casting include:
Dimensional accuracy
Less machining required to finish parts
Little to no material waste
Lower per-part cost
Can provide lower lead times than machining
Compatible with simple or intricate designs
Reduce assembly time and cost by eliminating fabrication weldments
Broadest range of alloy choices 
In-House Investment Casting for Quality Control and Low Lead Times
Engineered Precision Casting Company has been in business since 1946 and provides investment casting for industries including aerospace, oil and gas, military, and commercial. We are AS9100 certified and NADCAP accredited and our foundry pours over 75 different ferrous and non-ferrous alloys. Some of the common parts we produce include valve housings, fluid system parts, swirlers, and more. 
All our investment casting processes are performed in-house for better quality control and lower lead times and we can handle both small and large production runs. Our focus has always been on our customer and we strive to provide you with a high level of attention throughout the duration of your investment casting project.
Contact our experts today to learn more about using the investment casting process for your next project.
What Is the Investment Casting Process? 
The investment casting process is simple and straightforward, yet capable of producing highly detailed parts with tight tolerances. To start the investment casting process, a tool is created from a CAD drawing or mechanical drawing. Once the tool die is complete, it is injected with wax to create a wax pattern of the part.
Finished wax patterns are then assembled onto a sprue that is affixed to a pouring cup; the finished assembly is referred to as a "tree." The next step is to build up a ceramic shell mold, which is accomplished by repeatedly dipping the tree in ceramic slurry to form a coating. After an even coating has been achieved and the tree is dry, it is time to remove the wax.
The hardened ceramic molds are heated to melt and remove the wax, leaving behind the empty mold cavities of the net shape parts. Molten alloys are then poured into the ceramic shell and left to cool before using vibration or blasting to shatter the shell of ceramic mold, leaving only the metal tree.
Once all the ceramic is removed, the casting assembly is finished by cutting the individual parts from the tree and grinding them to remove any excess material. At this point, the casting is routed to any required secondary services like heat treatment, non-destructive testing, etc.
Is Investment Casting the Right Choice for My Project?
The investment casting process is highly versatile and can accommodate many types of complex designs. It is best used for quantities from prototype to 10,000+ parts with tight net shape tolerances, difficult cores and details, and/or fairly thin walls.
Investment casting is less ideal for parts that are thicker and have less requirements for tolerance or details, and for extremely high production runs in aluminum, however it is still capable of producing these parts efficiently.
Advantages of Investment Casting 
The investment casting process is suitable for various applications and in some cases, can be more cost-effective and produce better results than other casting or machining methods, depending on your part shape, size and quantity.
Investment Casting vs. Die Casting
Investment casting has significantly cheaper tooling and is a more cost-effective option for lower quantity production runs. Additional benefits include a larger alloy selection and the ability to cast larger pieces.
Investment Casting vs. Sand Casting
Investment casting provides a better surface finish and allows for greater design flexibility including the ability to cast thinner walls, create tighter tolerances and create more intricate coring.
Investment Casting vs. Machining
Investment casting can significantly reduce the cost and lower the production time per piece. This is accomplished by producing near net shape parts, while greatly reducing the amount of material waste. In some instances, multiple fabricated parts can be produced as a single casting.
Request a Quote for Investment Casting
Engineered Precision Casting Company provides investment casting and several secondary and support service to take your project from start to finish. Request a quote for your casting project today or contact us to learn more about our investment casting process.