Heat Treating & Hardness Testing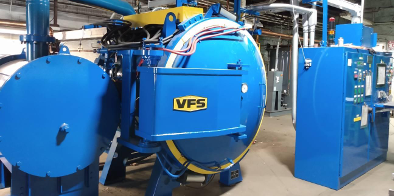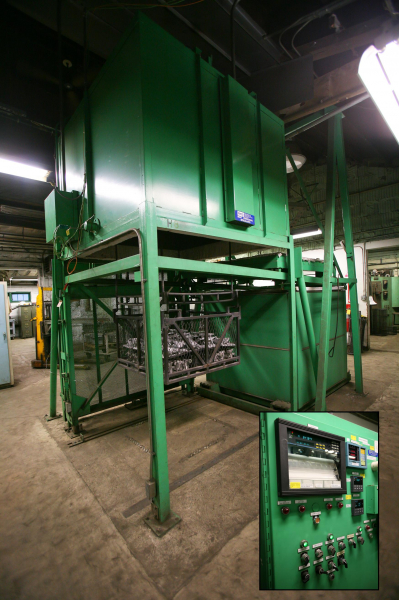 Heat treatment is a high temperature tempering process that is used to improve strength and wear resistance of stainless steel and aluminum aerospace investment castings. During the heat treatment process, investment castings are heated above their critical temperature, then quenched to quickly cool the part, creating a more uniform and structurally sound part. This may be followed by an aging process to further strengthen the investment casting, depending on the alloy.
After heat treating is complete, hardness testing is performed to validate the level of surface hardness that was achieved through the heat treatment process.
NADCAP Accredited Heat Treatment & Hardness Testing for Investment Castings
By managing special process operations like heat treatment in-house, Engineered Precision Casting Co., Inc. can avoid the production delays associated with transit and shared queue times, saving our customers time and money. 
Our gas-quenched vacuum furnaces for heating steel castings and drop-bottom aluminum investment casting furnaces are surveyed regularly under strict accordance with the AMS-2750 Pyrometry requirements. Our part-specific instructions, tight process controls, preventive maintenance, qualified personnel, and routine compliance audits also ensure that your aerospace investment cast parts are processed in strict accordance with all contractual requirements.
We are NADCAP accredited for the following heat treating and supporting operations:
Homogenize & Solution
Precipitation Hardening
Harden & Temper
Rockwell Hardness Testing
T4, T430, T6, T61
Normalize & More
Heat Treating Processes for Aluminum Investment Castings 
Heat treatment helps improve the physical and mechanical properties of aluminum investment castings for increased strength and hardness, and better machinability. Aluminum casting heat treatments provided by our casting foundry are in accordance with AMS-2771 and include:
T4 Heat Treatment Process: a natural aging process where the alloy is solution heat treated and then naturally aged until it reaches a stable condition. This heat-treating method is usually followed by an additional process such as T6 or T61.
T6 Heat Treatment Process: alloys are solution heated at low temperatures and then artificially aged until the material becomes stable.
T61 Heat Treatment Process: uses solution heat treating to heat the alloy to a precise temperature, then holds the material at that temperature for a specified time before rapidly cooling it. The alloy is then artificially aged to stabilize the material.
Heat Treating Processes for Steel Investment Castings
Heat treating steel investment castings and other high nickel alloys helps improve surface hardness, corrosion resistance and strength. We provide the following in-house heat treatment processes for steel alloys:
Homogenization Heat Treatment: a process where cast parts are heated to extremely high temperatures to produce a more homogenous metal structure.
Solution Heat Treatment: involves heating metal to higher temperatures followed by a rapid quench that is required for precipitation hardening.
Precipitation Hardening: in this heat treatment method, stainless steel investment castings are heated at elevated temperatures to cause changes in the material properties, a process known as aging.
Annealing: involves heating the parts near the alloy's critical temperature, then slowly cooling in a controlled environment, which produces a softened material ideal for straightening and machining. The part can then be further heat treated to a hardened state.
Hardening and Tempering: involves heating the parts above the alloy's critical temperature, then quickly cooling the parts by quenching them. The parts are then tempered by heating them again, but at a much lower temperature, and quenching a second time to set the temper.
Contact Us with Your Questions About Heat Treating and Hardness Testing 
Engineered Precision Casting Co., Inc. performs all heat treating and hardness testing in house to save you time and money. Contact our casting foundry to learn more about our investment casting capabilities and to discuss heat treatment options for your casting project.