Injection Tooling & Fixture Fabrication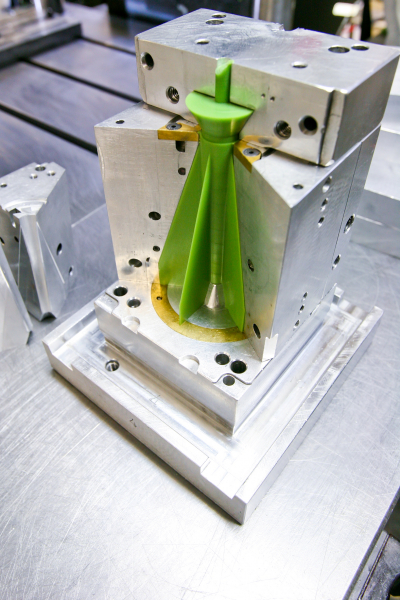 Investment casting involves creating wax patterns to produce ceramic molds for pouring various types of alloys. To create the wax patterns, a metal tool or die must first be manufactured based on a CAD file or mechanical drawing. Precision is essential in creating injection tooling to ensure finished parts require minimal finishing and meet dimensional tolerance requirements. To hold dimensional tolerance requirements, it may also be necessary to fabricate checking or straightening fixtures.
Injection Tooling and Fixture Fabrication for Investment Casting
An investment casting can only be as good as the die that is used to produce it. Engineered Precision Casting Company has always designed and produced its own tools and fixtures to ensure complete control of all the critical dimensions of the final part. By employing various software programs, we can utilize just about any type of electronic file to fabricate tooling and accept transfer tooling with a high rate of success.
Our in-house tooling capabilities to help you cut down lead times and reduce overall project expenses. We can produce all fixtures with in-house CNC and other tooling machines, allowing us to control all critical dimensions and cut lead times when design changes are required. Whether you need a tool based on a new design or your tools need to be changed due to new revisions or other design modifications, we can help.
Learn More About Our Injection Tooling Capabilities for Investment Casting
Engineered Precision Casting Company provides in-house tooling to help ensure accuracy and precision in your investment casting design. In addition to injection tooling and fixture fabrication, we also provide secondary and support services to complete your investment casting project.
Request a quote or contact us to learn more about injection tooling and fixture fabrication for the investment casting process.